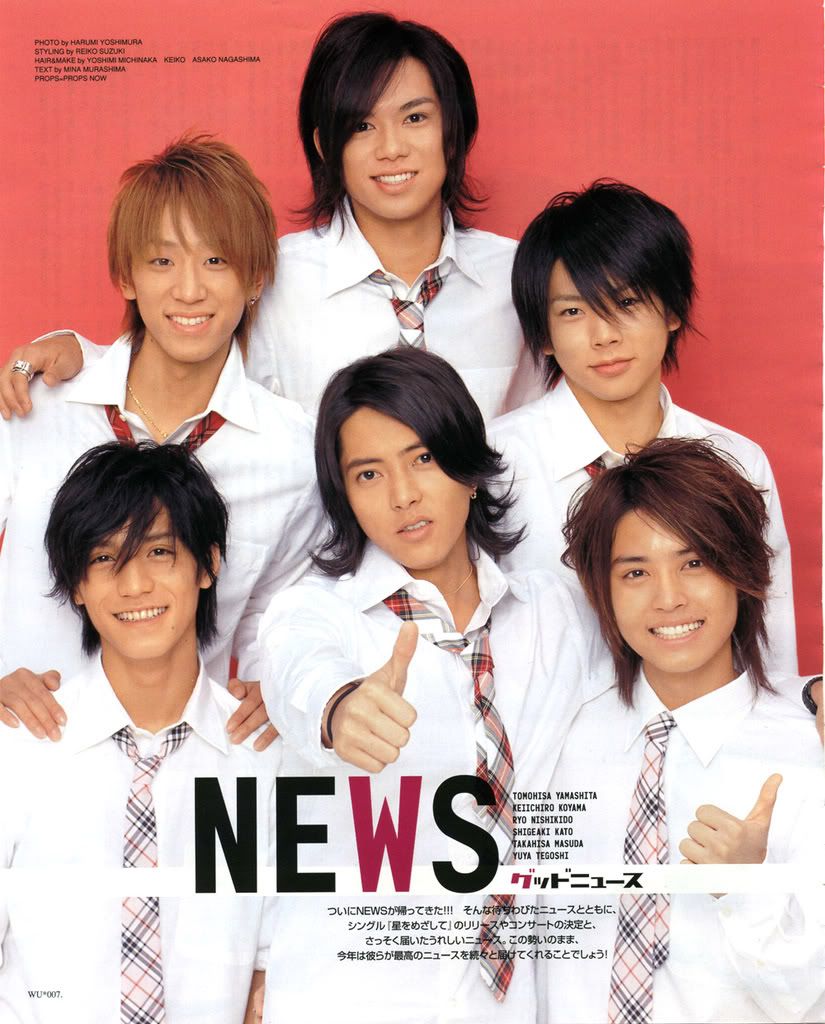 BAND JAPAN NEWS

NEWS (ニュース, Nyūsu) is a Japanese pop group from Johnny & Associates, which also produced groups such as SMAP, Tokio, V6, KinKi Kids, Arashi, KAT-TUN, Kanjani8 and Tackey & Tsubasa.
"NEWS" is said to refer to North-East-West-South as the band members come from all over Japan.
2003 – 2004: Formation and debut
NEWS (or NewS, as the spelling originally went) was formed in September 2003. The formation of the nine member group caused much controversy for splitting up popular Junior units in Johnny's Entertainment and propelling unknowns to the top ahead of established favorites. Yamashita Tomohisa, the group leader (and the most famous at their formation) recently said in an interview that he was not happy at the way NEWS started and only felt comfortable within the group in early 2006. The group began with the following members: Yamashita TomohisaKoyama Keiichiro (ex KKKity), Kato Shigeaki (ex KKKity), Kusano Hironori (ex KKKity), Uchi Hiroki, Nishikido Ryo (ex Kansai Jnr), Masuda TakahisaMoriuchi Takahiro and Tegoshi Yuya. (ex 4TOPs), (ex Junior Boys),
NEWS began their careers promoting the song NewS Nippon for the Women's Volleyball Championships, following in the footsteps of Arashi and V6. They performed their limited repertoire before matches and toured the country extensively following the championships. They even took a small trip to Taiwan to gain publicity.
Despite the controversial beginning and having CD sales confined to 7/11 convenience stores, NewS Nippon was a wildly successful single and the decision was made to keep the unit. Before their first Christmas concert, Moriuchi left. The circumstances were unclear but it was said that he left to concentrate on his studies.
NEWS did not release another single until May 2004. They came out with Kibou~yell~, which was their official debut and it went straight to number one on the charts, as did the following single Akaku Moyuru Taiyo. NEWS was now an established unit. In mid to late 2004, Kanjani8 - the other group Uchi Hiroki and Nishikido Ryo were members of - had their debut, leading to fan speculation that NEWS might further break down and fears that the boys might burn out. NEWS continued on with all eight members though and showcased their success with the Christmas 'NewSnow' concerts. The members individually found fame as well in drama and TV appearances.
2005 – 2006: Rise to popularity and scandals
Following their success in 2004, 2005 proved to be a fruitful year as NEWS released another two singles and their first album, touch.
However, just when NEWS seemed to be one of the most popular groups in Japan, on July 16, 2005, member Hiroki Uchi got himself involved in a case of underaged drinking and was suspended by his agency, leaving a seven member NEWS.
On January 31, 2006, Hironori Kusano of the group was accused of another incident of underaged drinking and became the second NEWS member to be suspended.
[edit]

May 2006: NEWS on hiatus
Releasing their 6th single on 15 March 2006, it was announced that NEWS was to be put on hiatus due to the temporary suspension of two of their members. NEWS held a 'NEWS Spring Tour 2006' before stopping their activities officially on 1 May 2006.
Members who were not related to the scandals were allowed to carry on with their solo activities, but no group activities would be carried on during this period until further notice.
December 2006 – 2007: The return of NEWS
NEWS' return was announced on December 30, 2006, but as a 6 member group. Hiroki Uchi and Hironori Kusano also return but in the demoted position of "trainees". On January 1, 2007, NEWS made their first ever performance after their return in the Johnny's Concert Countdown 2007.
March 21, 2007, NEWS's first single after their hiatus, Hoshi wo Mezashite, ranked #1 on the Oricon charts and became their second highest single after Kibou ~Yell~.
Their single was followed by a two-month concert tour around the nation. A NEWS DVD, Never Ending Wonderful Story, was released on 8 August 2007 featuring the highlights of the tour. A two-day NEWS concert in Taipei was proposed on the 6 October and the 7 October. Unfortunately an unexpected typhoon striking the Taiwanese capital city on the concert's first day resulted in a postponement of the first concert event. Instead, two concerts were held on the second day.
NEWS simultaneously released their 7th single and 2nd album on November 7; both releases reached the top of the Oricon charts, with their single "weeeek" selling 263,000 copies and their album "pacific" selling 196,000 copies.
This was the 10th time in Oricon history in which an artist reached #1 on both the single and the album charts, with the last occurrence achieved by KAT-TUN in April 2006. Other artists whom had accomplished such include SMAP, KinKi Kids, Masaharu Fukuyama, Ayumi Hamasaki, WANDS, as well as Seiko Matsuda. Those two releases also extended NEWS' streak of chart-toppers — thus far, all seven of their singles and both of their albums had became #1 on the chart rankings.
2008 – present
NEWS went on their nation-wide tour, NEWS CONCERT TOUR Pacific 2007-2008, from December 15th, 2007 to January 27th, 2008. As a special part of the tour, they performed for the first time as a group in Tokyo Dome[8]. The concert, which was held on 9th January 2008 and extravagantly involved the massive usage of 50 tonnes of water to entertain the fans, was due to overwhelming demand for tickets for their Pacific Tour that left near 300,000 fans without tickets. [4]
On 10 January 2008, NEWS announced their 9th single, Taiyo no Namida (太陽のナミダ, Taiyō no Namida, lit. Tears of the Sun), during the second Tokyo Dome performance. The single was released on 28 February and the cover song became the official theme for the movie Kurosagi. On 8 May 2008, a new single, SUMMER TIME, was released. The song became the official song for a clothing brand [Russ-K][5] commercial. Both Taiyou no Namida and Summer Time singles also became chart-toppers, making NEWS the second artist in Johnny's after KinKi Kids with the longest streak of consecutive number one singles since debuting [9]
MEMBERS
ACTIVE MEMBERS

While there is no indication at present that they will be rejoining NEWS, Hiroki Uchi and Hironori Kusano performed at the 2007 Shonentai Playzone. Uchi and Kusano's graduation from their previous statues of trainees, were announced during the press conference of Isshun no Kaze ni Nare, a short drama in which Uchi made his come back as an actor. He has a major role in the currently airing spring 2008 weekly drama 'Osen'.